The benefits for you
Open the app and away you go.
You don't need a key or card for Pick-e-Bike. It's all done via the app.
Requirements
What you need
How much does it cost?
Prices
Riding our Pick-e-Bikes will cost you 35 cents a minute. No subscription fees and no hidden charges.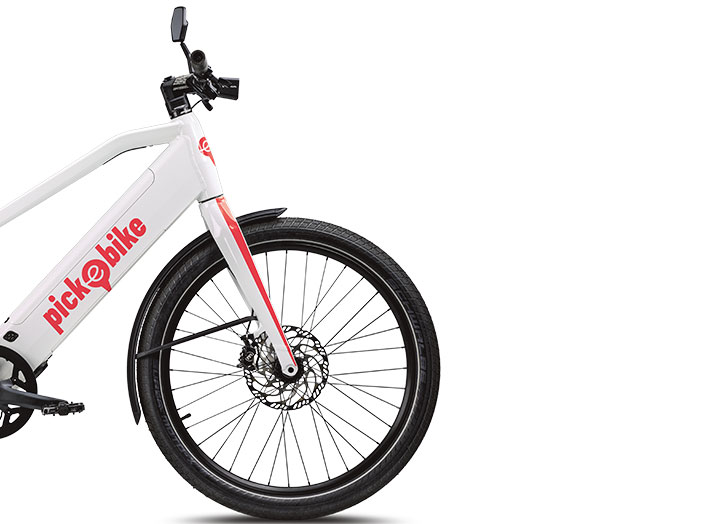 How it works
How to get riding
DOWNLOAD THE APP

Available now from the Apple App Store and the Google Play Store.

REGISTER

Registration is free of charge. You just need your driving licence, ID or passport, and credit card. We'll check and verify your details as quickly as possible.

RESERVE A BIKE

You can reserve the bike you want for 15 minutes to make sure someone else doesn't take it.

START YOUR RENTAL

You can unlock the bike with the app and start renting it. Doesn't that sound easy? That's because it is.

HELMET ON AND OFF YOU GO!

Don't forget to put your helmet on – it's obligatory. Now you're ready to go and can enjoy the unique feeling of whizzing along on a bike.

PARK PROPERLY

You can park anywhere in the permitted areas in the Pick-e-Bike zone.

PUT THE HELMET BACK

Please don't forget to put the helmet back in its spot so others can use it while enjoying the bike.

FINISH YOUR RENTAL

Lock the bike and finish your rental. Thank you.
A fleet of the newest generation bikes
500 e-bikes
Elegant, sturdy and, with the speed-up upgrade, capable of up to 45 km/h – with this super high-quality e-bike, you can breeze through traffic jams and happily conquer steep slopes.
MOTOR
Speed 35 km/h
Power 800 W
BATTERY
Lithium ion battery
840 watt-hours
Range of up to 120 km
System
Speed display
Battery display
LED light